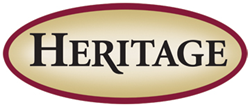 Wake Forest & Rolesville, NC (PRWEB) April 24, 2014
Continuing its legacy as a top-selling new home community, Heritage in Wake Forest and Rolesville, NC is watching prices climb. Since the beginning of the year, new home prices are up 3 percent and in year over year comparisons the numbers are even stronger. From March 2013 to March 2014, the average sales price rose 6 percent with an even larger increase of 12 percent in price per square foot.
As the market improves regionally and nationally Heritage is continuing to lead in new home sales, says Andy Ammons, president of Ammons Development Group, Heritage developer. We know this is due to the pairing of exceptional custom home builders with award-winning amenities. A new home owner in Heritage has immediate access to parks, greenways and ponds, along with the option to join The Heritage Club that boasts award-winning golf and two pools. Its the complete lifestyle package.
Heritage maintains a constantly rotating inventory of approximately 80 homes at all stages of construction along with many home sites all to meet the needs of buyers. And, with a $ 1.5 million remodel underway at The Heritage Club, life in the community is better than ever. For more information, please visit http://www.HeritageWakeForest.com. Coldwell Banker Howard Perry & Walston Builder Services manages sales for the community.
ABOUT HERITAGE
Heritage is located near the historic downtown district of Wake Forest, NC and extends into the growing community of Rolesville, NC. This master-planned community is comprised of 37 individual neighborhoods and offers townhomes and single-family homes priced from the $ 160s to the $ 600s. Heritage offers a variety of recreational amenities including golf, tennis, two swim complexes, miles of walking and biking trails, greenways, playgrounds, soccer fields, an amphitheater and a fully stocked fishing pond.
This exceptional community has been named Master Planned Community of the Year, three times in its thirteen-year history by the Home Builders Association and the golf course was given an outstanding 4-1/2 Star rating by Golf Digest Magazine. Heritage was also named Best of the Best Neighborhood and Golf Course by Wake Forest Weekly in 2011, 2012 and 2013. In 2014 the community was named Top Residential Development by the Triangle Business Journal.
For more information on the community, please call 919-453-2000 or visit us online at http://www.HeritageWakeForest.com. Become a fan at Facebook.com/HeritageWakeForest. Sales by Coldwell Banker Howard Perry & Walston Builder Services. Marketing by Martin Communications.