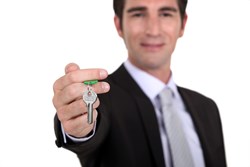 (PRWEB UK) 13 December 2013
Colordarcy highlights news on the UK Bank of England interest rate (Source: BBC News, 'Bank of England adviser queries forward guidance policy', 11 December), which suggests that even if the unemployment rate in the UK falls below 7%, it is far from guaranteed that the base rate will increase. If the interest rate remains at 0.5% in 2014, this will create the ideal conditions for buy-to-let investors according to Colordarcy.
Loxley McKenzie, Managing Director of Colordarcy comments, The Bank of England base rate is an important indicator for property investors because it is traditionally linked to mortgage rates. If the Bank of England base rate goes up, then the high street banks start putting their interest rate on mortgages up too.
This of course leaves homeowners and some buy-to-let investors with tracker mortgages worse off, which feeds through into a cooling of the property market when monthly mortgage payments rise.
The Bank of England will be reluctant to see this type of scenario unfold in the UK with the economy only just showing signs of growth.
According to Colordarcy, although property prices are beginning to rise across the UK and in London in particular, the recovery is not yet country-wide, with a significant number of homes still classed as in negative equity in the north of England.
The Daily Telegraph reported recently that Martin Weale, a member of the Bank of Englands Policy Committee, was concerned that the Banks low-interest rate policy could stoke up inflation (Source: When Will Interest Rates Rise?, Daily Telegraph, November 2013).
Any concerns about inflation will be weighed up against stifling the recovery in the UK economy and the property market before it has got going according to analysts Colordarcy.
Bank of England Governor, Mark Carney, recently updated his guidance that the base interest rate will not rise until unemployment drops to 7%. This was originally forecast to happen in 2016, however it now looks like unemployment will drop sooner than predicted, yet there is still only a 40% probability that this will happen at the end of 2014.
McKenzie added, With banks paying less than 2% interest rates on savings and buy-to-let properties generating rental returns of 7% in some areas of the UK, it is easy to see why investors could get a much better return from UK property in 2014 and beyond.
Notes to the editor:
Colordarcy is a leading property investment company that specialises in finding positive cash flow investment properties worldwide. Their aim is to provide their clients with properties that offer the unique combination of strong growth returns and cash flow positive income.
Investing in positive cash flow property significantly reduces the risk because the property will pay for itself regardless of market conditions, employment status or other financial commitments.
Colordarcy provides complete support before, during and after a sale, including finding tenants, financial assistance, viewing trips and currency services. Colordarcy are proud members of the Association of International Property Professionals (AIPP), and abide by its code of conduct, one established to protect the buyer, by ensuring members follow professional guidelines and procedures.
Colordarcy investment property portfolio includes some of the best properties for sale in Brazil, Florida, Turkey and the United Kingdom.

For more information, supporting pictures or logo artwork, please contact:
Brett Tudor

PR Manager
Tel: +44 (0) 207 100 2393

Email: press(at)colordarcy(dot)com

Web: http://www.colordarcy.com/
Colordarcy Investment Ltd

28 Leman Street

London

E1 8ER