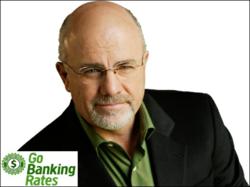 Los Angeles, CA (PRWEB) July 10, 2013
As the Fed Chairman Ben Bernanke hints at an end of quantitative easing (QE) and the rise of interest rates in America, there is new opportunity for consumers to financially benefit. To break down the options, GoBankingRates publishes a new article collection explaining consumer tips for making money with savings accounts, CDs, mortgages, stocks and bonds.
"The sudden surge in interest rates is likely a knee-jerk reaction to Bernanke's comments regarding quantitative easing and we should expect the trend line to level out long-term," states GoBankingRates managing editor, Casey Bond. "Even so," she advises, "rates have nowhere to go but up, and it's wise for consumers to make adjustments to their finances with this in mind so they're not left scrambling as many investors recently have."
Below is a preview highlighting three strategies for maximizing returns in a rising rate environment (as detailed in the full GoBankingRates guide):
1. CD Interest Rates Trends
According to GoBankingRates' database, which tracks interest rates offered by more than 5,000 U.S. banks and credit unions, the average 2-year CD rate stands at .64% APY. While it's doubtful CD rates will skyrocket, they have likely bottomed out and are poised for a slow and steady upward climb.
This means, for CD depositors, choosing shorter-term CDs is key to ensuring funds aren't tied up in a long-term account that pays a lower rate. Implementing a CD ladder is also advised so deposits mature in steps, maintaining some liquidity to the depositor's savings.
2. Investment Considerations
Knowing which companies have less debt than their peers and focusing on those that make consumer products purchased by people who are less affected by rising mortgage, car and credit card rates is important in todays economic environment.
3. Strategies for Mortgage Borrowers
GoBankingRates recommends those in the market for a mortgage should lock in a fixed mortgage rate as soon as possible, as home loan rates will likely not return to the historic lows experienced in past months. Adjustable rate mortgages (ARMs) are generally a poor choice for borrowers since mortgage rates will only be rising.
Further, mortgage borrowers may want to focus on shorter term lengths as well. Dave Ramsey, financial author, radio and TV personality, tells GoBankingRates, I recommend 15-year mortgages, and never more than that, because the normalization of the 30-year mortgage has helped create a constant state of financial bondage for the middle class. Its caused average, everyday people to lose hope of ever paying off their homes and being totally debt-free.
In fact, GoBankingRates' report includes Dave Ramseys 15-year fixed mortgage rate advice in an article titled Which Mortgage Option Is Best.
For the rest of the recommendations and to see the full list of profit building tips for deposits and investing, please visit http://gobr.co/6J9.
About Dave Ramsey
Dave Ramsey is host of the Dave Ramsey Show, a nationally-syndicated radio program discussing personal finance topics and strongly emphasizing reducing, avoiding, and eliminating debt. Ramsey offers online and offline classes for his popular Financial Peace University program, developed budget/saving curriculum for high school and college students, while providing coaching for the military and non-profit communities. You can learn more about his budgeting and financial tools on MyMoneyMakeover.com and more about Dave Ramsey at DaveRamsey.com
About GoBankingRates.com
GoBankingRates.com is a personal finance website that connects readers with the best interest rates nationwide. GoBankingRates collects savings account rates and CD interest rates from more than 5,000 U.S. banks and credit unions, making it the only online rates aggregator to provide comprehensive and authentic local interest rates. Additionally, GoBankingRates.com partners with major media outlets such as Business Insider and US News & World Report to provide compelling personal finance content. Its editors have also been featured and quoted on several premier finance websites such as Yahoo! Finance, Forbes, The Street, and Huffington Post.
Contact:
Jaime Catmull, Director of Public Relations

GoBankingRates.com

JaimeC(@)GoBankingRates(dot)com

310.297.9233 x261
###