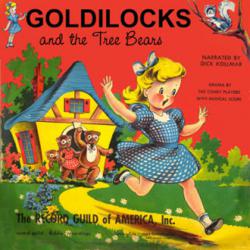 Chantilly, VA (PRWEB) June 16, 2013
We all know the story of Goldilocks and the Three Bears. In the Fable, Goldilocks finds a perfect mix between too cold and too warm, too soft and too hard, settling on what seemed to be just right. An analyst at BullionReport.com aptly stated that the US economy is sitting in a Goldilocks Zone, and claims gold investments will be the benefactor once the economy leaves this zone.
Over the past few years, equity and bond markets performance has been closely tied to the Feds easy money policy and expectations of future easing are tied to current economic performance. Any change in expectations of this policy would lead to increased market volatility and possibly a correction. Interest rates have risen for the last 6 weeks in a row on speculation of the Fed ending QE3. As expectations become more concrete, rates are expected to rise dramatically. There are three possible scenarios for the economy and gold moving forward.
1. Too soft: If the US economic growth slows to unacceptable levels, the Federal Reserve will have no choice to but to increase or at least maintain current Quantitative Easing 3. This $ 85 billion monthly asset purchase has spurred the stock market to all time nominal highs as investors have developed a Pavlovian response to every disappointing economic update as a sign for more future easing. Two conflicting factors are in play. 1. Poor economic reports which should negatively affect markets, and 2. expectations of an increase in QE as result of poor growth, which has been a positive sign for the markets.
Outlook for gold: If history is any indicator, slow economic growth will lead to continued easy money policies. In Milton Friedman's 1968 Presidential Address he said, every attempt to keep interest rates at a low level has forced the monetary authority to engage in successively larger and larger open market purchases. He would go on to say the result of this short term policy is increasing inflation and higher interest rates down the road. For gold investors this future inflation brought on by continued easing will bolster the price of their precious metals holdings.
2. Too hard: It appears that the US economy can grow too fast. Recently improving economic numbers have led to speculation and fears that the Fed will begin to pull back its purchases, eventually letting the market stand on its own two feet. Just like before, there are two conflicting factors to consider when forecasting equity performance. On one hand economic growth should be a great sign, on the other hand fears of a tapering stimulus package may have traumatic effects.
Outlook for gold: If the Fed stops purchasing bonds, or even begins selling bonds, interest rates will begin to rise. Rising interest rates have the potential to pop the current bond bubble, make US government debt service an exponentially larger burden, dropkick the housing market and put the country back into a recession. Gold investors can forget the inflation play and bank on the fear trade inherent in gold.
3. Just right: Our current scenario is right in the sweet spot. Economic growth numbers are decent, removing fears of recession, but not too strong to allow the Fed to exit QE3. This sweet spot has seen a large correction in the gold market as the fear and inflation plays have temporarily subsided.
The current Goldilocks economy seems to be on the precipice of change each time the Fed hints at ending QE3. Wall St. factors in new information about 6 months ahead of the economy and the current trend of rising interest rates may be a hint of a change in trend. Rates cannot stay low without the a continued Fed policy and this change may be the catalyst that drives gold back into a bull market. Perhaps sooner rather than later the three bears will come home to chase Goldilocks back into the woods.