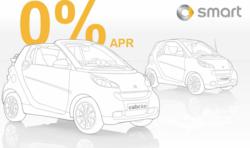 (PRWEB UK) 9 January 2013
Well, smart of Hertfordshire is extending a limited time offer on a very limited number of used smart cars from now through the end of April, or while allotted stock lasts.
Buyers who act decisively can buy a used zero percent smart car financing for up to three years. The programme doesnt stop there however. Along with this smart car finance of a 36 month 0% APR, buyers will get roadside assistance for a year, a 12 month unlimited mileage warranty, and MOT test failure cover all included at no additional cost.
If within 30 days (or 500 miles), you decide you dont like the particular used smart car you purchased, you can simply bring it back and exchange it for another. Its a zero percent, zero risk offer!
This is a remarkable opportunity for those who have been curious about smart cars to learn more, without the investment of buying a new smart car.
Each of these selected used smart vehicles offered with this programme have undergone a rigorous inspection by qualified smart car technicians, with mileage and history verified to minimize surprises.
With your used smart car, you are not only getting a tremendous deal with added perks, you are getting an economical car that is agile, comfortable, safe, and ecological, delivering extremely low CO2 emission figures. Smart cars are unique for many reasons including their edgy appearance and exchangeable body panels. Their most popular feature however, may be fuel mileage, with the smart fortwo passion 71 mhd equally 67.3 mpg.
The cars size also appeals to many city drivers. While it is not recommended, virtually two of the smart fortwo vehicles can fit into one regular size car parking spot. This makes any smart car a breeze to park even in Londons congested city streets.
So what does this offer mean in real terms? It means you can be driving an approved used smart fortwo coupe passion 71bhp Mhd for just 36 monthly payments of